Charleston Vietnamese Restaurants: Phuongs
Phuongs Vietnamese Restaurant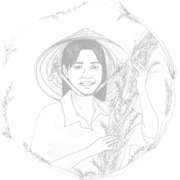 Phuong's Vietnamese Restaurant is the best Vietnamese food in the Charleston area.  It is pretty much a fact. As a food photographer I am fortunate to find myself eating for fun after shoots in Chicago, New York, Philly, Boston, Baltimore, etc.  A food enthusiast friend of mine once told me that the best food on the planet may possibly be Vietnamese as that is where East meets West.  It took me a couple years to really understand what he meant.  If you think about the FOH service style in the USA it is most often French style service. Then you think about the BOH.  From my understanding most kitchens are set up in a French manner.  Most kitchens I have photographed in seem to uphold more French culinary traditions than anything else.  So if you have  French cuisine intermingling with Asia…. then the results are "fusion" without the Appleby's and Guy Fieri attitude.
This brings us to Phuong's.  Phuong was working at H&L Asian Superstore. Her and Dat (husband) were very quietly making the best Pho in Charleston and now they have moved down the street to the former Raul's Taqueria.  I live downtown Charleston close to Hampton Park and the Citadel.  I drive to Phuong's Vietnamese Restaurant once a week to get an order of Goi Cuon and Pho with Meatballs and Brisket.  There is a reason old men eat soup. It fills you up immensely with no food coma.
Go up I-26, get off at Remount Exit, and park your car at Phuongs.  Try the Scallion Pancakes, a Bun dish or my favorite the Pho.  Try all the other pho in town.  Try the pho in the bigger cities. Be open-minded.  Is it worth $14 for a smaller bowl of Pho at CO with a small layer of grease on top surrounded by hipster idiots?  Or do you want a Vietnamese family dropping miles of smiles and serving you their food at almost 50% less and 100% more flavor?  Do the math, Charleston!
https://paulcheney.com/wp-content/uploads/2013/08/charleston_photography-4506.jpg
800
1200
admin
https://paulcheney.com/wp-content/uploads/2021/09/logo-paul-cheney-july-9-2021-80x200-b.png
admin
2013-08-11 21:24:15
2017-02-16 19:55:12
Charleston Vietnamese Restaurants: Phuongs